New games and the appearance of new characters complete the launch of El Chavo in the first Spanish version of the voice app exclusively for Google Assistant
The voice assistant, inspired by the iconic Mexican TV series El Chavo del 8, will test the mental agility of children and adults alike, as it offers activities to complete famous phrases from the show, play riddles and listen to stories with the voice of El Chavo.
The first Spanish version of the exclusive voice app for Google Assistant
The game, which also features characters such as Quico, Don Ramón and Professor Jirafales, is in fifth place in terms of popularity in Latin America.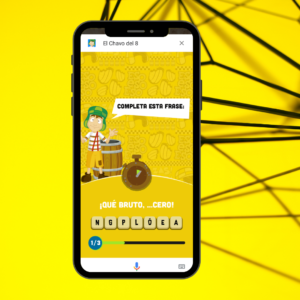 Thanks to its good acceptance, the new action recently released in Portuguese has the same functionalities as in its original language.
¡Play from any Android and iOS device!
And that's not all, Econocom Gigigo Mexico is working on an official chatbot for the TV series, which will be available at the end of September and through Facebook messenger
Learning by means of entertainment games taking advantage of the benefits of technology is a reality, since they promote personal development in a natural way and their opportunities are infinite.