Seamless experience to drive traffic to the point of sale and increase the ARPU
— trackable discount solution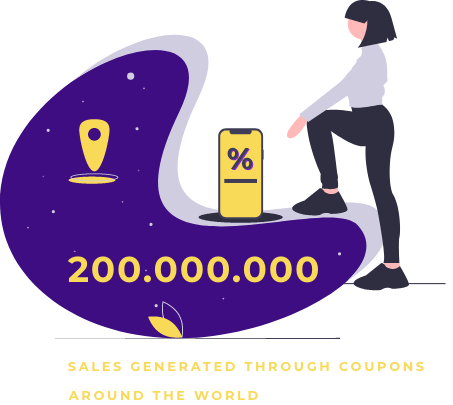 four main layers of digital offers
reliability with built-in scalability
Over 1.000.000 competing users getting coupons in thousands of live campaigns
Since 2015 working top global brands across 30 countries worldwide
Over 10M coupons per week
Over 500M million transactions
99,99% uptime Service Level Agreements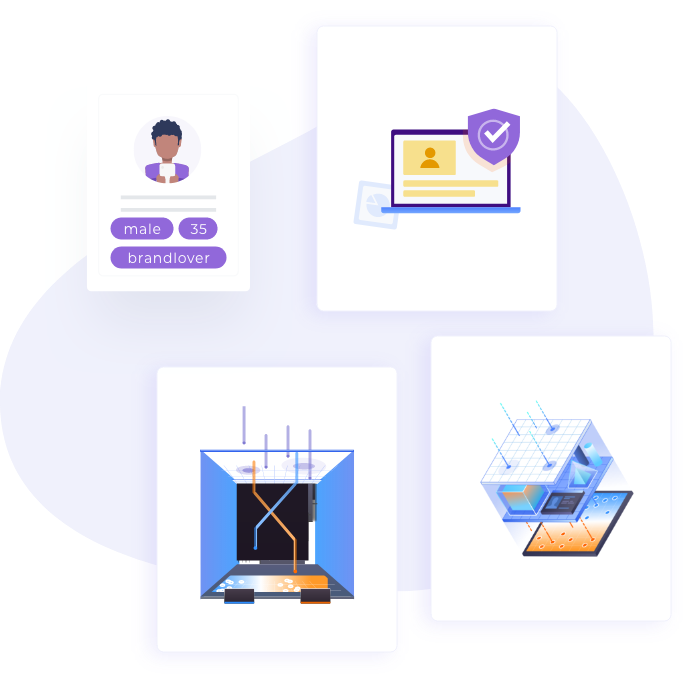 real-time, without worrying about infrastructure
Numeric or alphanumeric format, character exclusion and unique use.
Analysis, rules and coupon validation in real-time. 
Support for all major code formats including: Passbook, QR, Barcode, PDF, Image and many others. 
Automate the platform behavior  based on the events that occur in your systems.
Speed up integration with 3rd parties through a fully-featured REST API and web-hooks support.
Powerful analytics that enable decision-making and performance analysis of your campaigns in real time.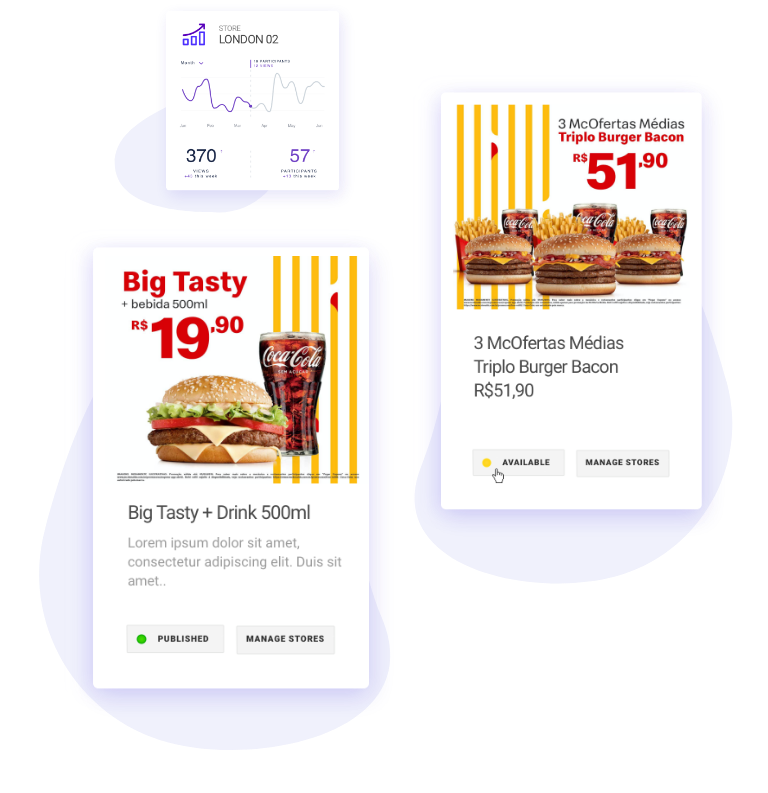 manage multiples point of sales & BU
Create global offers that will be generally available for everyone
Manage local-level offers that each store or business unit manager can publish on their own
seamless campaign management at all levels
Create local and global offers and make them available to all or to each store.
Local offers can be activated by store or business unit.
Target consumers through segmented profiling.
Deliver coupons through giveaways, contests and games.
Centralizad store management and stores subscriptions to local offers.
Coupons tracking and attribution, consumers preferences and more.
wallet app, landing pages, bots & API
All offers in one place, with more advanced segmentation and improved experience
To deliver segmented offers through multiple channels
The perfect channel to interact with consumers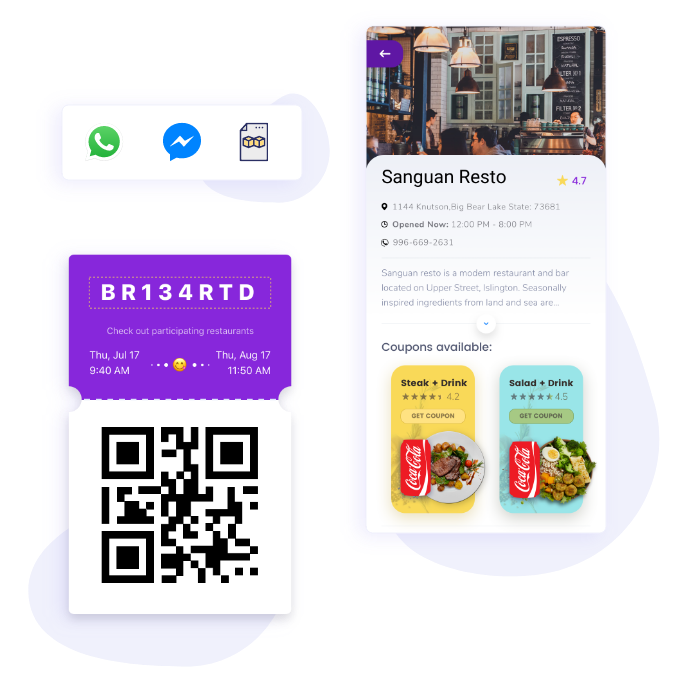 omnichannel consumer activation made easy
Deliver web-based offers through Email Marketing, Facebook Ads and more.
Centralize all offers in a single campaign portal.
Real time communication of segmented offers to consumers.
Easy campaign integration in multiple channels via API.
Setup a local or global phone number to interact with consumers at any time over the most used messaging platforms.
Activate offers based on consumers location.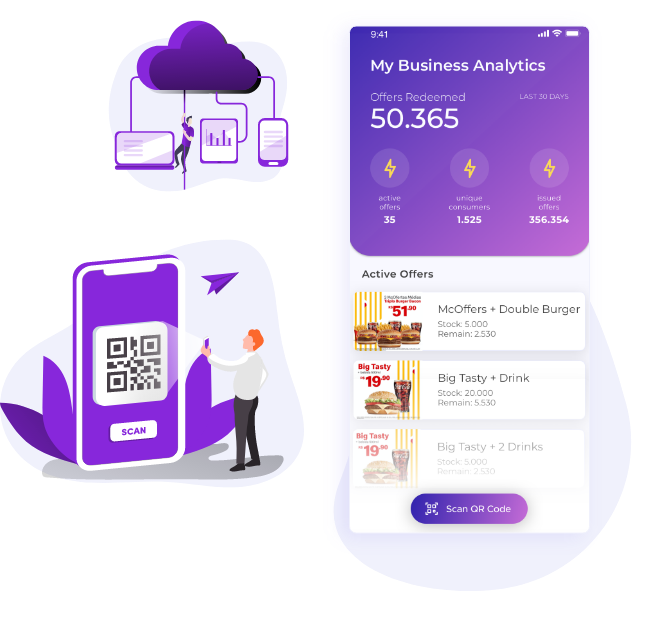 POS integration or app validation
Easy integration allows real-time validation and ticket items capturing
Easy-to-use app for stores to scan QR Codes or code typing
Analyze consumer behaviour and how your offers increase the average ticket
real-time offers tracking and attribution
Tracking and attribution of coupon codes through the customer journey.
Match each code, user, product and campaign configuration.
Fast and seamless in-store redemption process by the integration with the PoS.
Manage alternative redemption methods through the Validation App or Web.
Continuous visibility of campaign status and evolution. Real-time notifications for stock management.
Maximize conversion rates through an optimized redemption process for each scenario and use case.
generation
Fill out your campaigns catalogue with global offers for all stores and local-level offers each store can publish on their own.
publication
Once created the campaign catalogue, each store or Business Unit manager can publish them
activation
Offers are being delivered through the different channels on consolidated way
validation
Stores validate coupon codes through the POS integration or Validation App or Web
measurement
Stores and Brand can analyse KPIs for each campaign in detail to improve the conversion rate
+500 million consumers stories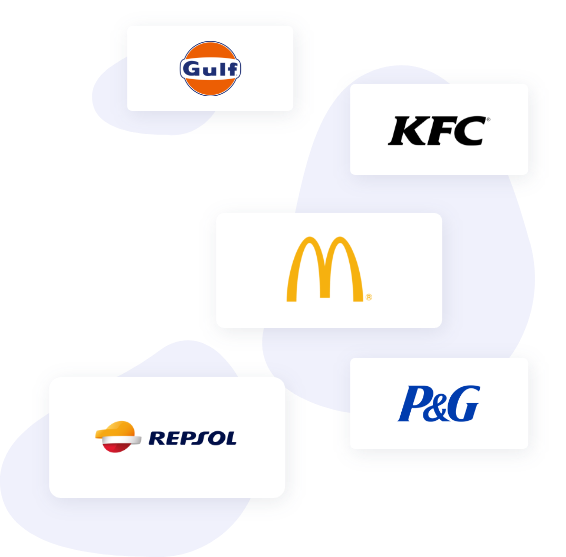 Key performance indicator
Million Monthly 
Consumers
no excuses for not starting right now!

One platform, multiple mechanics and experiences, all through the model Pay as you grow.
Delivery Offers in multiple countries and languages, faster than a website.
Launch multiple offer campaigns in minutes using an out-of-the-box Offer Management.